LAMELLA PLATE CLARIFIER
Water Purifying Equipment for Water & Wastewater
Introduction
Conventional settling reactor always required large surface loading and retention time. Our Lamella Plate Clarifier has overcome all the design weakness mentions above, that we have smaller foot print and operation time, and yet promising outlet treate water
Features
>> High efficiency of sludge–water separation, required surface area is only 30% foot print of conventional system, even can up to 10% max.
>> Inclined plate is used in the system, which no mud blocking cases.
>> Simple cleaning & maintenance
>> In-house fabrication
>> Fast delivery.
>> Easy to operate, save time.
>> Less manpower required.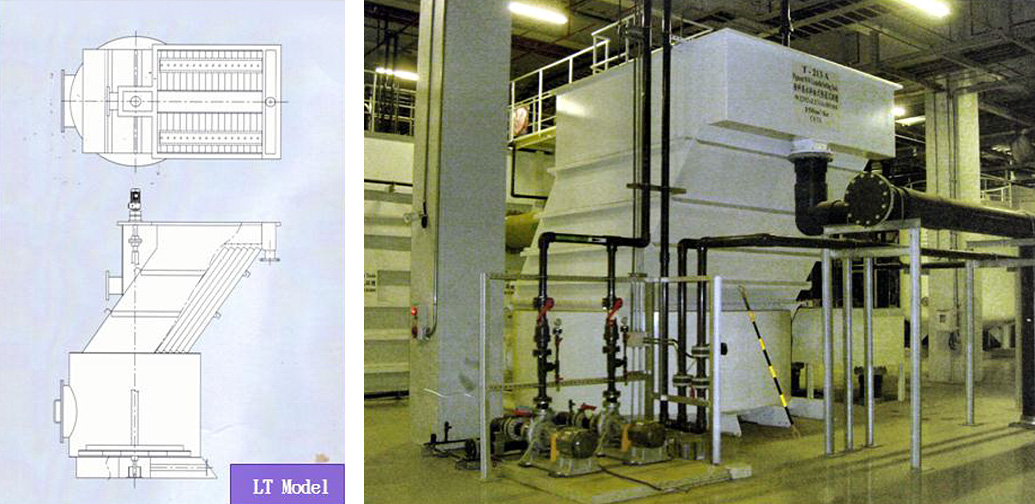 Specification
Model

Dimension

L*W*H, mm

Settling Surface

Area, m²

Scarping Motor

Power, kW

Treated Capacity,

m³/hr

Operating

Weight, Kg

LT-12
2550*1600*3050
12
0.18
6- 12
6,620
LT-25
3150*1850*3750
25
0.18
12.5- 25
9,750
LT-40
3550*2100*4150
40
0.25
20- 40
17,100
LT-60
4000*2550*4450
60
0.25
30- 60
19,850
LT-80
4350*2900*4400
80
0.37
40- 80
26,540
LT-100
4600*3200*4600
100
0.37
50- 100
31,400
LT-125
4950*3200*5100
125
0.55
62-125
40,950
LT-150
5250*3550*5300
150
0.55
75- 150
44,850
LT-190
5750*4000*5300
190
0.75
95- 190
50,950
Note:
Surface loading rate is varied for different application, which is base on treated water characteristic (0.5-0.7 best for biological sludge, 0.7-1.0 best for chemical treatment sludge)