DISSOLVED AIR FLOTATION (DAF)
Oil & Grease, Susended Solid Purifier for Water & Wastewater
General Description

Dissolved Air Flotation (DAF) is used to separate emulsified fats, oils, greases (FOG), suspended solids and to reduce BOD from continuous flow.
The central part of the DAF consists two circular sections. The inner section contains the sludge well and is fixed while the outer section rotates along with the spiral scoop at a speed synchronized with the flow. The inlet, outlet and sludge removal mechanisms are located in the central rotating section.
The variable speed gear more drives the rotating elements and the scoop, for which electrical current is fed from a rotary contact mounted on the central shaft. Un-clarified water is released through rotary joint in the center of the tank.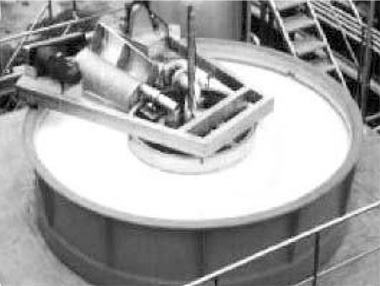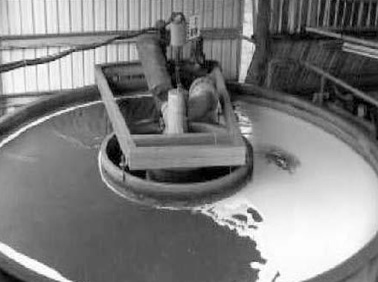 Advantages
>> Low retention time
>> Low Space requirement
>> Excellent solution for high flowrate
>> High clarification efficiency
Application
>> Dairies & Food Industries
>> Poultry and Slaughter Houses
>> Meat / Fish Processing and Packing
>>Industrial Kitchen and Canteens
>> Vegetable Oil & Coke Processing
>> Tannery industry
>> Textile / Pulp & Paper Industries
>> Petrochemical Industries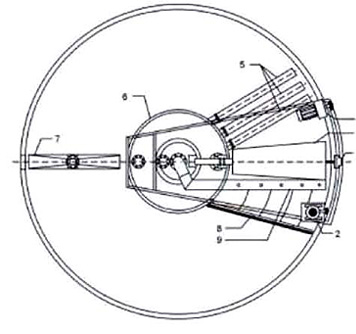 1) Scoop drive
2) Carriage drive
3) Spiral scool
4) Support wheel
5) Clarified water collector
6) Movable center part
7) Sediment sump
8) Distribution rake
9) Distribution tube
10) Sludge outlet
11) Clarified recycle outlet
12) Floated sludge outlet
13) Process water inlet
14) Clarified water outlet
15) Electrical slip ring
Specification Specification subject to change without notice due to technical modifications
| | | | | |
| --- | --- | --- | --- | --- |
| Model | Dia. (mm) | Max. Capacity (m3/hr) | Motor Scoop (kW) | Motor Carriage (kW) |
| DAF-24 | 2400 | 27 | 0.37 | 0.37 |
| DAF-32 | 3200 | 48 | 0.75 | 0.55 |
| DAF-39 | 3200 | 48 | 0.75 | 0.55 |
| DAF-45 | 4500 | 96 | 0.75 | 0.75 |
| DAF-55 | 5500 | 144 | 1.1 | 0.75 |
| DAF-61 | 6100 | 175 | 1.1 | 0.75 |
| DAF-67 | 6700 | 210 | 1.5 | 1.1 |
| DAF-72 | 7200 | 244 | 1.5 | 1.1 |
| DAF-81 | 8100 | 308 | 1.5 | 1.5 |
| DAF-90 | 9000 | 380 | 2.2 | 1.5 |
| DAF-100 | 10000 | 470 | 2.2 | 2.2 |
| DAF-110 | 11000 | 570 | 3.75 | 2.2 |